Anyone who has had a massage treatment would know just how great you feel after your treatment: your muscles feel relaxed, your mind has slowed down and a general feeling of calmness has washed over you. 
While you may know these feelings well, you may not know just how beneficial massage is to your mental health and wellbeing! 
Today we will explain the benefits massage has on mental health, particularly methods of lymphatic drainage…
---
Benefits of Massage for Mental Health
Massage therapy is an ancient form of treatment that is now gaining popularity as part of the complementary and alternative medical therapy movement.
There have been many empirical studies into the benefits of massage for physical and mental health. Numerous studies have found single applications of massage therapy reduced anxiety, blood pressure, heart rate, negative mood, and pain.
While multiple sessions offered benefits for pain management, massage therapy had the largest effect on depression and anxiety symptoms.
Overall, a course of treatments was found to provide the most beneficial mental health outcomes in these areas.
At Massage One, we always recommend clients begin with a series of 3-6 treatments to allow us to get to know you and your concerns. This allows us to tailor your treatments, monitor your progress, and recommend the appropriate maintenance plan.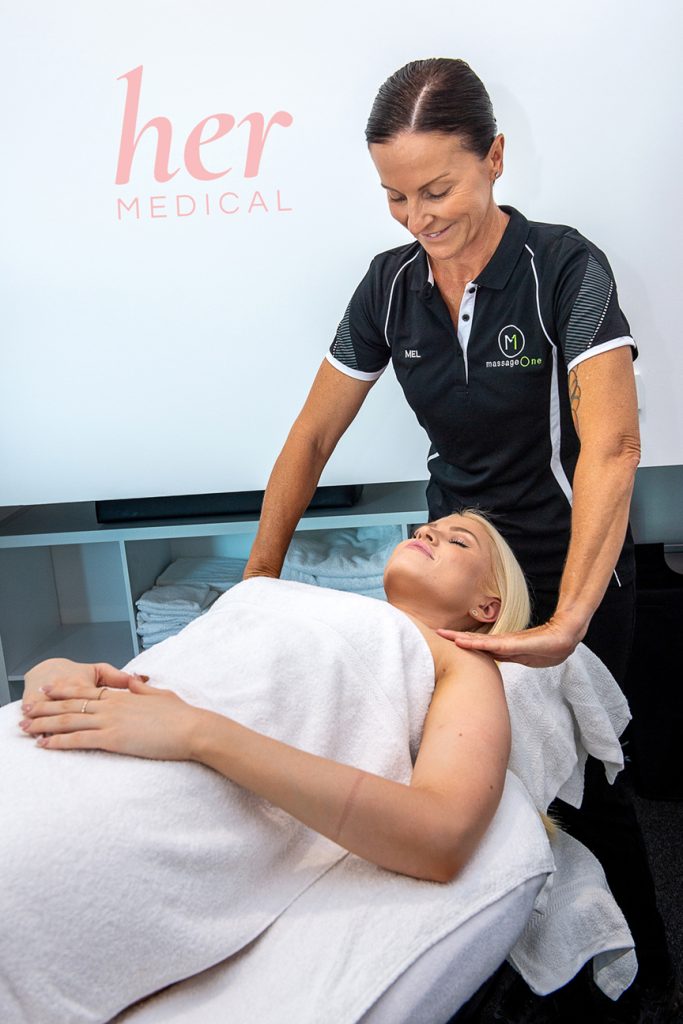 ---
Benefits of Lymphatic Drainage for Mental Health
While traditional massage can offer benefits for both physical and mental health, some studies have found lymphatic drainage techniques (such as our M1 Lymphatic Method) to be superior.
A 2015 study concluded,that "manual lymphatic drainage is superior to connective tissue massage regarding stiffness, depression, and quality of life for patients with fibromyalgia".
Overall, while most styles of massage therapy consistently improved the quality of life of fibromyalgia patients, lymphatic drainage is preferred. These learnings are likely applicable to other chronic conditions, offering benefits for both the mind and body.
Other potential benefits of the Our M1 Lymphatic Method include:
• May help to alleviate tension in the body
• Can promote feelings of relaxation
• Can calm the nervous system
• May help to improve sleep quality
• Can help to increase energy
• May help to promote overall well being
• May help alleviate feelings of stress or anxiety associated with PCOS, menopause & pregnancy
Our team is passionate about tailoring treatments to manage your unique conditions so you can achieve optimal health and wellbeing!
---
So if you're looking for a way to improve both physical and mental health, book a massage with the M1 team! Your happiness and well-being mean everything to us and our team is dedicated to providing massage treatments that restore your health. Ask us about an experience tailored to your needs.
References
A Meta-Analysis of Massage Therapy Research Christopher A. Moyer, James Rounds, and James W. Hannum University of Illinois at Urbana–Champaign Psychological Bulletin Copyright 2004 by the American Psychological Association, Inc. 2004, Vol. 130, No. 1, 3–18
Effectiveness of Different Styles of Massage Therapy in Fibromyalgia: A Systematic Review and Meta-Analysis. Yuan SL, Matsutani LA, Marques AP. Man Ther. 2015, Vol 20. No. 2, 257-264.